Our premarital class was unique in many ways the first being it lasted 12 months instead of 3 months. This was deliberate on our part as we wanted to put in the work to have a happy and successful marriage. So we met almost every weekend in the rooftop section of the church. It was intense, intrusive, raw & an experience that helped us set a solid foundation for our marriage centered of Jesus Christ. Four years in, we still behave like newly weds. We communicate openly having developed an intimate, and strong friendship from the sessions. Through The Couples ClinicKE's guidance our marriage is purpose driven, enjoyable & fulfilling.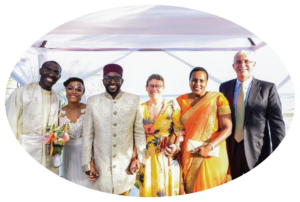 Andrew & Ivvy
We as the Mwauras loved every day of PMCC. We looked forward to seeing The Couples ClinicKE at our weekly sessions because we knew it would be an amazing time of prayer, learning, and laughter. He created a safe space for us to share our deepest secrets and ask all the questions we needed to ask. One of our favourite moments at PMCC was when we realized Rev. Ken pays close attention to our nonverbal cues. On this particular day, he could tell we had tension because we had fought a lot and we weren't agreeing on most things leading up to the wedding. After sharing this with The Couples ClinicKE, we talked about it and Rev made us stand and hug each other and instantly the tension lifted. From that, we learned how to bounce back from such moments. Touch!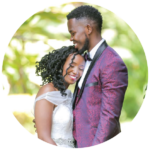 The Mwaura's
Our PMCC session was an eye opening period in our dating days. It was illuminating to find out what we appreciated more about each other and how we could continue improving our relationship even further into our marriage. The assurance The Couples ClinicKE granted us in helping steer, guide and provide counsel to our young marriage life was a blessing beyond measure.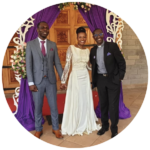 Ronnie & Sharon Abiero (Mr n Mrs)
The moment we met The Couples ClinicKE, it was clear we were in the right hands. He took us through the premarital counseling sessions in a professional but very amicable manner. The lessons get clearer by the day as we continue to grow in our marriage. We resonated quite well with his well-rounded style of mentoring, teaching and counseling. Above all he has anchored our fledgling union on a Christian foundation. In Rev. Ken, we have found friend, mentor and teacher we can count on in times of joy, sadness and even turbulence. We highly recommend The Couples ClinicKE to young couples planning to tie the knot.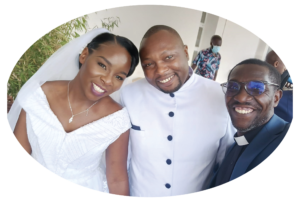 Dr and Mrs. Adolwa